Been busy lately trying to finish an online project so it's only now that I got to finalize this job board. And now it's up and ready for you all seeking online projects that could bring a decent amount of income while you're at home.
Note that I have mentioned in my post Job Board Coming Soon, that it will initially be linked to the different online jobs but those you have to check and see if you're qualified.
There will be a dedicated page for the job board on the nav bar (just below the header) of this blog, click it and it will direct you to the listings of available job offers. Scan through the many selections, click one that you want to view to get more information. Apply to as many as you want just as long as you think you are qualified to do the job posted by the advertisers.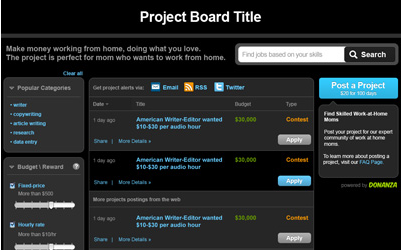 Okay, some disclaimer here. Just so you know, scam is all over the internet. Posting the jobs on the board doesn't mean that I know the advertisers/employers. I haven't  tried to apply for one (not yet as of this writing). Neither am I saying that the jobs on the board are scams. I want you to be clear on that. If you have been doing freelance work, you know what I mean. If this your first time to apply for online jobs, then make sure that you know what you're getting into before you apply for a project.
If you like what you see on the Job Board or hoping to find that project you are so good in doing, then please don't forget to subscribe to this blog. Updates on the job board will be emailed as soon as there are new projects available. If you don't then that dream project might go to another freelancer.
If you get hired, do comment on this blog, so I'll know that I was able to help one lucky soul! Enjoy the hunt and Good luck!