Alright, it's time to give you guys a detailed information about how you can Make Money Online via Paid Posting.  First in this much awaited series is InPostLinks. I know some of my readers are newbies in the field of Blogging, so this is for you all. Some may be old timers but is not into "earning thru their blogs" thingy before and suddenly want to earn while they're at it. Most of my online friends are veterans in this kind of "job" so just lemme get on with it 🙂
First on our long list of Paid to Blog sites is
InPostLinks
. Signing up is FREE but the admin needs to approve a blog before you will be given access to the list of opportunities. The area where you'll find different advertisers is called the "Marketplace". Once a blog has been added to your account and approved, you can get 4 opps a day for a single blog. You can add several blogs, provided it adheres to the terms and conditions of the site.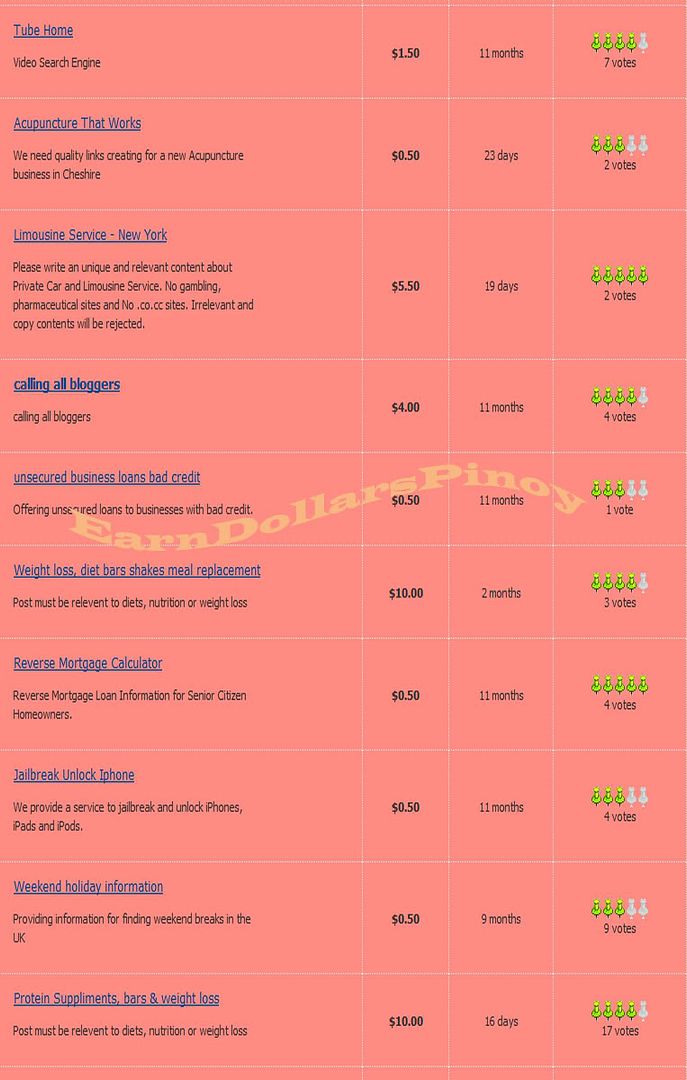 Now, the trick is to post as soon as you get an opp. Why? Because you are only given a few hours to do the post and submit. Otherwise, you'll lose the chance and may not be able to get that same particular opportunity because there are 300k other bloggers waiting for an open spot.
As you can see, some are priced as low as $.50. Actually, the opportunities you'll get will depend on your blog's niche, PageRank and Alexa Ranks . InPostLinks decide whether your blog is acceptable or qualified. There's a tab wherein you'll see only those opps in which your blog qualifies. The rest will be in "red", meaning, any of your blogs didn't reach the minimum qualifications.
Once you have reserved an opp, that's the only time you'll see the advertiser's url. Make an article related to the link in free form and not a review. A post should be at least 200 words and includes the given keyword/s and the url. Submit and IPL will automatically approved that once it has finished scanning the post for the required advertiser's request. Then you wait 30 days for the payment. All is done via Paypal.
I know that there might be some of you who would sneer at the thought of getting an opp for less than $5. For me, this might be lower than what I usually get, but then, it's still money and occasional filler posts for my blogs. Besides, you have a chance to get 4 advertisers for each blog. Imagine you have 5 blogs approved, you get some for $2 each, then that would be much higher than what you usually get for a single paid post that's hard to come by.
I know of some people who doesn't get opps like these. So what? It's my blog anyway, I can do whatever I please. Heck, I know there are times you are tempted or even gave in because you need money. ;P
Overall, InPostLinks isn't that bad. Yep, it's still money and it's really hard to get a decent amount by the end of the month. But, hey! This at least will add up if you get a few opps a day, before you know it, you already accumulated a lot when it's cut-off time. Extra money to pay for the bills!
Here's a payment proof the last time I wasn't so busy and had time for some opps: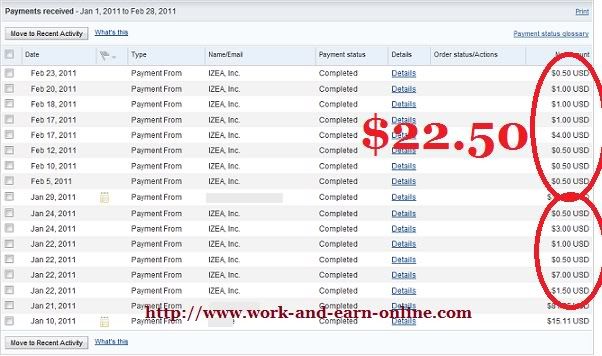 I actually have a more recent proof but it's just a few coz I was consumed with some online projects so no time to even post on my blogs. This just goes to say that this is a legit site and it does pay.
Take the tour by clicking the banner above. See if it's something you have time for and if you want to make extra money. good luck! 🙂
Oh, if you're new, sign up for a free account with Paypal. You need this to get paid besides this is the most popular payment processor, so if you're interested in making money online, then you better have one. You can earn from Paypal too!