I have been earning dollars since I started seriously blogging online last year. From meager cents to hundreds of dollars! Not only that – I am making money online from the comforts of my home! Yes, you heard it right, even in my pajamas, I can get on to work. No more traffic, no more pollution and I can take care of my kids and do house chores.
How? Well, there are tons of online opportunities for you, Pinoy. Even if you didn't graduate in high school or is tired of commuting, there are jobs online that can help you earn extra dollars monthly. Yep, you heard it right, the currency is $$ or even get paid in pounds or Australian $$! It differs on where your client is based, but they can also convert it to US Dollars depending on your agreement.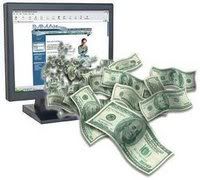 Here are some ways to earn online, provided you know what you're getting into,lol.
PAID TO CLICK

– this is a paid to click action. You click the advertiser's advertisement and you get paid directly to your account. This isn't a get rich quick job. In fact, I don't think there is an online job which would truly pay you hundreds or even thousands of dollars overnight (unless you're one of the probloggers or super affiliate marketers). You have to work for it. Click everyday and refer your families and friends. The best sample of this site is Neobux.

AFFILIATE MARKETING

– here you get connected with sites like PayDotCom, ClickBank or Market Health and sell digital products in which you get commissions for a confirmed sale. There are other sites that offers a cut on every product that you helped in selling but it's risky.

BLOGGING

– this is a great way to earn online. You get to monitize your blogs by placing text links or banner ads from Google Adsense, direct advertisers, paid posting or even your own affiliate products. There are terms of services and policies that you have to abide in order not to get flagged.
The above are just examples of opportunities you can do online while at home. But first, you need to check yourself if you can do this and if you possess a lot of patience. This can't be all done with just a snap of a finger. You have to work for it. As I mentioned earlier, the samples I gave isn't a get rich quick scheme. If you don't work for it, then obviously you won't get paid.
I guess what's great about this is you can work at home, tend to your family and relieve yourself of stress from traveling to and from work, the 9 to 5 office work and the traffic. I'm not saying that working online isn't stressful, yes it is and I hate to break your bubble. But at least the only stress you'll be getting is from your work – if you'll consider it as one form of stress,lol. I can't begin to imagine (again) how my life would be if I'm still working in an office. Perhaps my hair is all grey now at my young age (lol) and my skin is not as soft as it felt more than 20 years ago (lol).
Anyway, in any kind of work, stress is always present. It's how you deal with it that truly matters. Goodluck in your job hunting!